It can probably go without saying that if you are putting your home on the market you have hopes of a swift and profitable sale. The question then follows; how do I do accomplish that?
First and foremost is choosing the right agent to help facilitate your real estate goals. Once you have established a working relationship with a realtor (ahem…may we suggest The Hurlbut Team) then you need to get your house ready. So lets talk "staging."
"Staging" may sound hoity-toity but it is an aspect of any home sale that can have a big impact on fielding offers at asking price or above. Just as you would tidy up the house before guests arrive, you are packaging your house to prospective buyers- you want to put the best version out there. Let us help you tackle the world of staging:
Don't Take It Personally
This can be difficult as this is your home not just a structure, but professionals know how to create a space that future buyers can envision living. This often means the removal of your more personal items; family photos, your bobble-head doll collection or your grandmother's crocheted afghan. It isn't that these items aren't special and wonderful, it is that such personal pieces can block potential buyers from envisioning their own collections, heirloom pieces or photos in the house. As a seller you must find a way to emotionally detach so that the future homeowners can emotionally attach during their brief visit.
Less is More
Removing side tables or toy bins will seem impractical but part of staging relies on the old adage that less is more. As a seller you hope for a buyer to fall in love with the house, not an area rug. So eliminating all clutter creates clean surfaces and highlights the architecture and layout of the house. Keeping the furniture minimal and floating furniture (pulling it away from the walls) helps create the illusion of more space.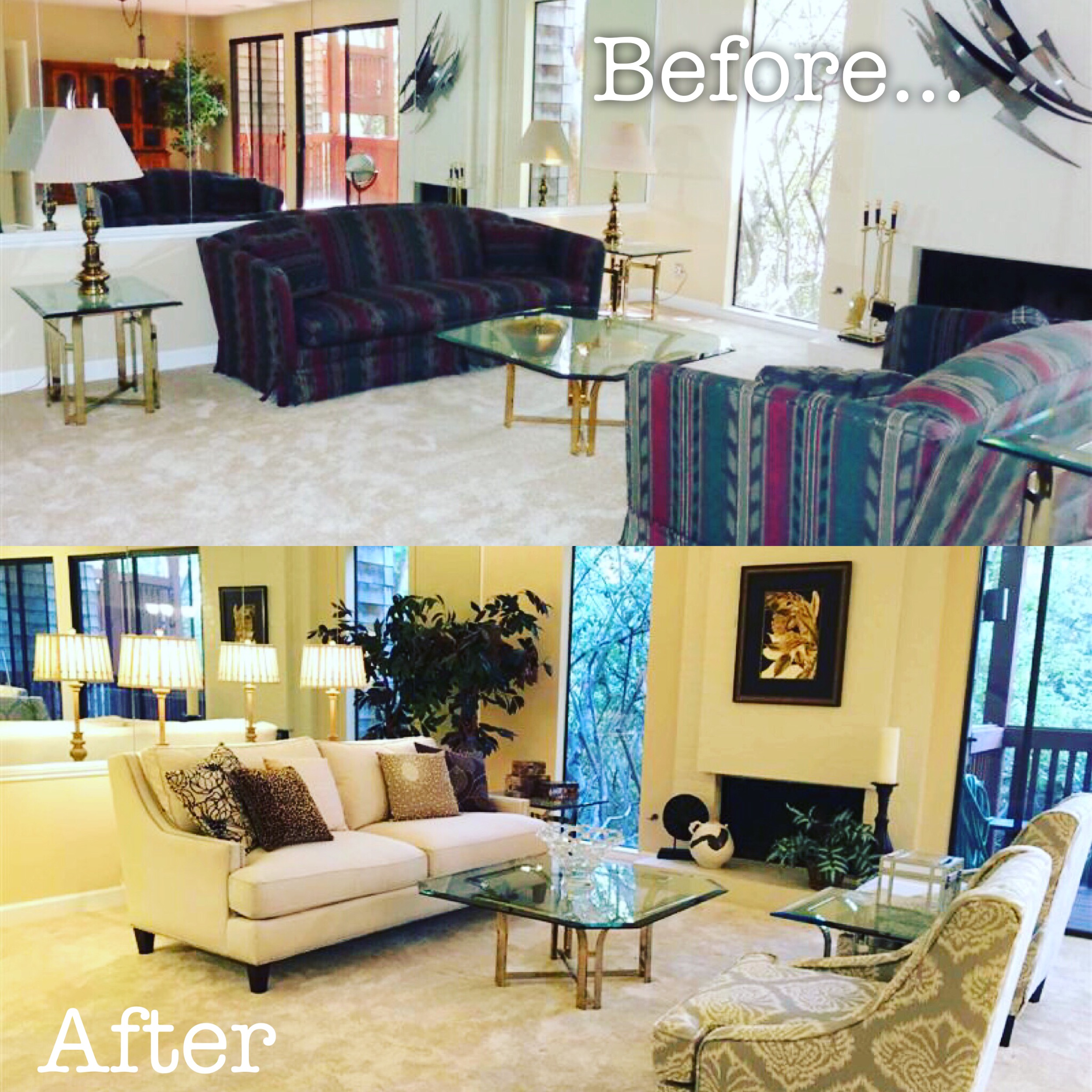 (Photo courtesy of Nancy Cleary of Nancy Cleary Home Staging)
Old Space New Room
While one room of the house may have been a perfect place for your sewing table and crafting station, professionals may recognize that same space might be more appealing as a home office. Or perhaps your home office presents better draped in pink curtains and transformed into a nursery. Being open to taking an old space and creating a new room that will attract more buyers is a beneficial aspect of using home stagers.
Staying Current
Home trends are ever changing and while you may not want to live in a "rustic barn chic" retreat, that may be the style-du-jour. Professional staging companies will have the best furniture available to update your home to current trends. We spoke with some of the best stagers in the business and asked what the current trends of home staging are right now:
The new color of 2017 is warm taupe and beige colors throughout with pops of modern color to accentuate (this throw pillows and accent furniture that is bright and bold)
Speaking of color Pantatone's color of the year is "greenry", and while we discuss later bringing outdoor elements IN don't neglect the power of the patio. Staging experts say that creating outdoor living areas goes a long way in enticing buyers. String some lights, throw a few pillow on the chairs and laydown and outdoor rug to establish a relaxing retreat.
"Farmhouse chic" still is in, but it needs to be done with modern practicality and an editing eye. You don't want your house to actually look (or smell) like a barn.
Texture. Look to incorporate the fabric of 2017 (fashion and home) with velvet accents. Accomplish two look with bold, jewel-toned, velvet throw pillows on the couch.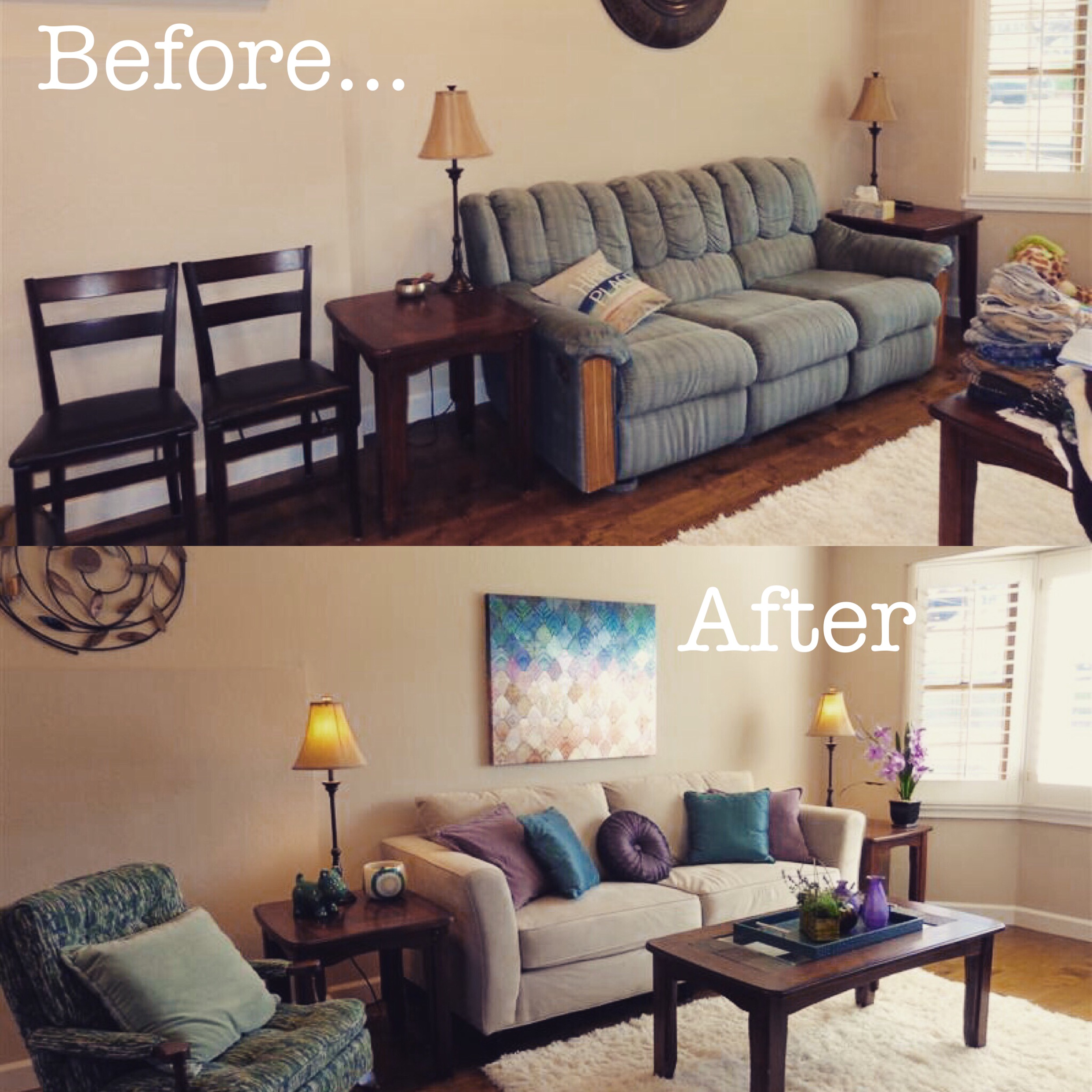 (Photo courtesy of Nancy Cleary of Nancy Cleary Home Staging)
Do It Yourself
Staging may not be in your budget but here are a few things you can do yourself, in addition to the above-mentioned tips, to help prep your home for its big debut.
Clean, clean, clean. Shining floors, swept front porch, cobweb free attic. Clean the house from top to bottom.
Bring the outdoors in. A vase of fresh flowers in the entry way or a bowl of lemons can go a long way in creating an airy ambiance indoors.
A fresh coat of paint. The less scuff marks or dings visible the better, so take a weekend and update the paint (try neutral shades) with a fresh coat.
Neutral master. While pops of color are recommended, creating base colors that appeal to all is a great way to attracting everyone's eye. The master bedroom is the primary place to keep the palate gender-neutral and calming.
Inhale. Deeply. Do you have a dog? A hamster? A love of fragrant food? Our loveable companions and lifestyle can often leave less than desirable scents, and while we may become accustomed to them or find them enjoyable, others may not. So open up the windows and let the air in but try to avoid heavily scented candles or room sprays.
Use your knowledge. No one knows your house better than you and while we have underlined the importance of a neutral space you know how the space is best used. So if an awkward nook is a perfect place for a dollhouse or a coat rack, show off your expertise and leave the piece there (neatly though please).
Whew-Did you get all that!?
We know that any adventure in real estate is an emotional roller coaster often accompanied by information-over-loads. One way to quell the dips and curves is to rely on trusted professionals, both in realty and in staging. The Hurlbut Team and their preferred staging vendors have proven their worth time and again.
Staging by Nancy Cleary Home Staging
925.330.3075